18 Oct 2011
Mashup-Germany - Best of 2008-2011
Exactly three years ago, I've uploaded my first mashup video to youtube. I used the account "BenStilller" and the name "Mashup-Germany" (delusion of grandeur?). My first production were pretty bad, but fortunately they improved over time. Soon later my youtube channel started to lift off. Within two years it had over 12 million views and this was when WMG decided to close it down due to copyright claims. Of course I was angry, I put so much work into it, but it didn't stop me from producing mashups. True passion is true passion! Today I am supported by many labels, artists and last but not least by you guys!
mashup-germany.com has over 2000 unique visitors every day and you guys are REALLY unique! During my Mash Mob tour I've travelled half the world from Brazil to Russia and got to meet many of you guys. We talked and partied a lot and shared our love for music and life. To thank you guys for all that love, I've decided to put a Best of Mashup-Germany 2008-2011 sampler together. I chose 54 of my favourite mashups and revisited or remastered some of them. CD1 and CD2 are almost all mashups in English language. CD3 is mostly German. You can choose to either download the CDs one by one or download them all together in one big file.
Thank you for all your support and enjoy the music!
ALBUM DOWNLOAD
CD1 DOWNLOAD
CD2 DOWNLOAD
Best of Mashup-Germany 2008-2011 - CD1
Mashup-Germany - Best of 2008-2011 - CD2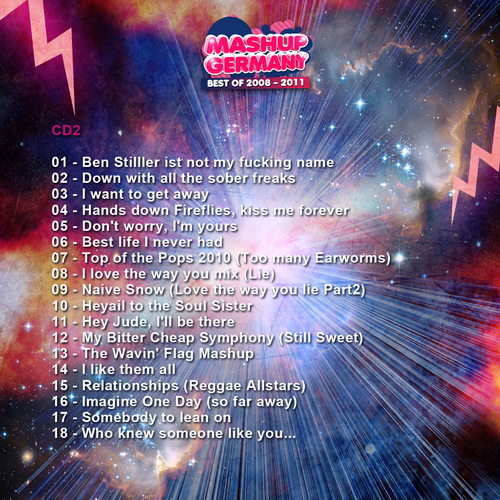 Mashup-Germany - Best of 2008-2011 - CD3 (Sportfreunde Stilller)
CD3 DOWNLOAD
German Mashups only!